Probe Station
Probe Station Overview
A probe station is an interface tool to measure the electrical characteristics of your microelectronic device. Whether it be a wafer, glass, MEMS etc, if you are unable to see the inputs and outputs of your device precisely with the naked, a probe station is what you need to perform measurements. By using a combination of a microscope and micropositioners, users can accurately make contact with probes to touch onto their device and use other eletronic meters to see your results.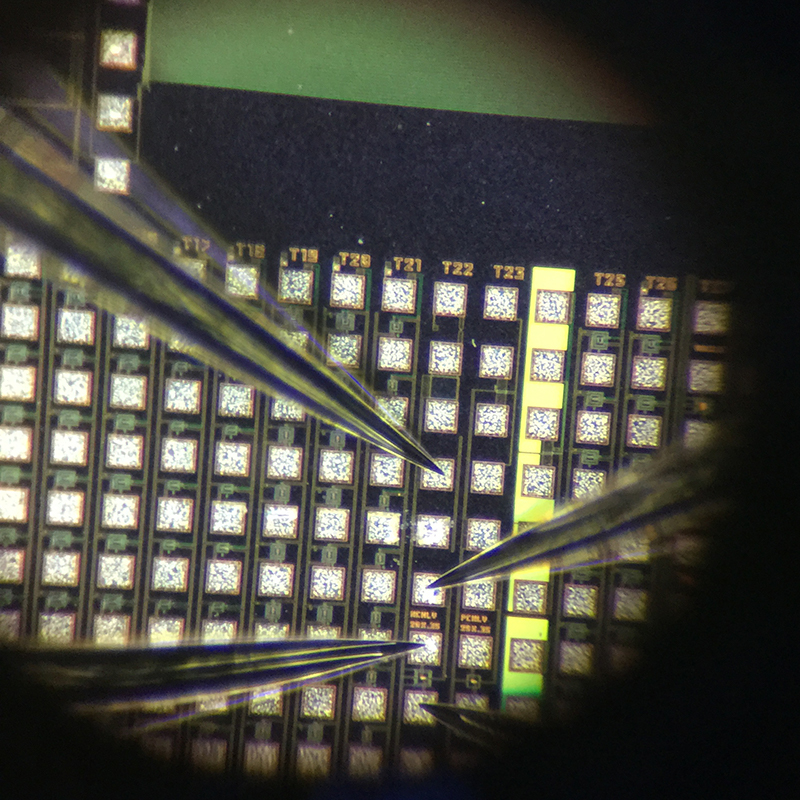 Everbeing probe stations are available to suit your every application need. Our solution approach is modular and can vary a lot depend on what you're looking for. Usually we split applications between DC and RF probing.
Narrowing your Requirements
Some details you would need to identify are:
What is my device size and probing size?
What type of data am I trying to measure?
Do I need my DUT's to be heated?
Do I need high frequency (RF) probing? (For more information on RF probes, please check out GGB Picopobes at www.ggb.com
A lot to probing starts from these questions. Our stations are graded based on the number of functions in order to allow you to probe.
Feature Comparison
| | Chuck Stage | Chuck Up/Down | Microscope Stage | Platen Lift | Platen Fine Adjustment |
| --- | --- | --- | --- | --- | --- |
| C-Series | v | v | | | |
| EB-Series | v | v | v | | |
| BD-Series | v | | v | v | v |
In addition to the series above, there are
mmW
probe stations in their own category, as well as
controlled environment
probe stations. These two types are more specific and offers all the features you need for these applications. Please refer to the EB mmW Probe Station page and CG-196 page.
For more information on probing precision and resolution, please take a look at our micropositioner page
here
.